Leading the way through innovation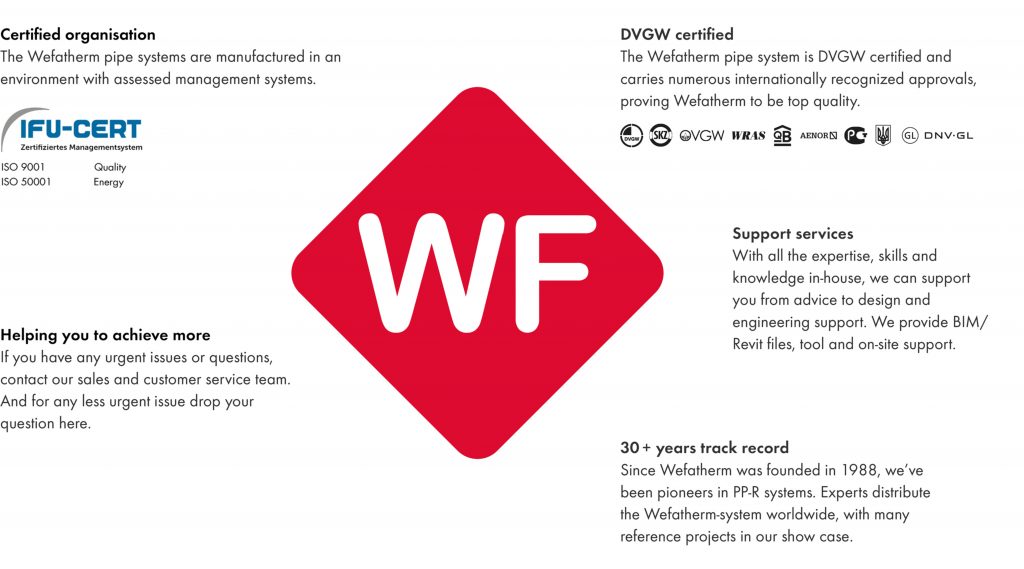 Made in Germany
With more than 30 years of experience in water supply systems, Wefatherm is always focussing on innovation, quality and dedication. Wefatherm PP-R water supply systems have been used for many years in areas of application where the pipe system has to meet high standards of durability and reliability.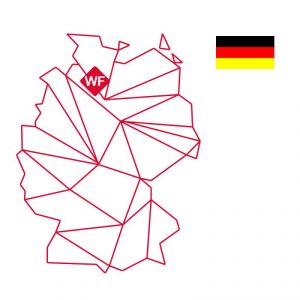 Pioneers in PP-R systems
From mould maker to manufacturer of pipe and fittings. Since its foundation in 1988 by Peter Fassbender under the name Wefa Plastic gbR, Wefatherm has always been a pioneer in PP-R pipe systems that transformed the business model from production of fittings only into a system producer for water supply systems.
German engineering and global approach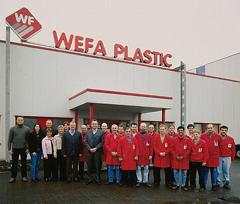 An international distribution network was developed, including partnerships with many present group companies. In 1996 the first pipe was produced making the system approach possible. True to German engineering an R&D department was founded with their own laboratory to cope with not only questions on material and product development but also PP-R production technology. The acquisition in 2001 by the present Aliaxis group opened additional growth opportunities, especially for the PP-R products. Ultimately in 2010 the production moved to Wunstorf to be able to cope with the demand.
The name Wefa Plastic GmbH changed to Wefatherm GmbH in 2012.
Advanced mould and process technology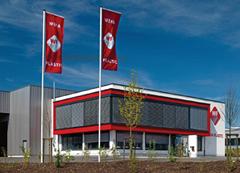 Wefatherm produces with a large number of automated moulding machines and extruders a growing volume of PP-R fittings, pipes and accessories for water supply systems. The fittings are produced with advanced moulds, securing high-quality products with economics. With modern mould flow techniques the mould design is optimised before construction. Furthermore, the production plant is equipped with extruders ensuring the latest German technology.
Wefatherm is certified according to ISO-9001 and ISO-14001. Additionally an extensive number of national products and system approvals secure the highest quality standards.
From product to system innovation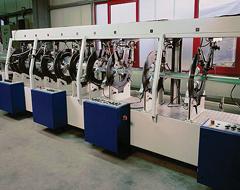 In the development of Wefatherm innovative ideas have always been a guiding principle. Initially, these ideas were based on injection moulding technology. For instance special connector fittings (brass-plastic) and the latest development: large bore fittings.
Meanwhile, the system-approach has driven innovation more towards delivery of pipes and fittings consequently pushing the production of several kinds of PP-R based pipes: standard PP-R, PP-RCT, stabi and fiber pipe. For this purpose Wefatherm has built up an expertise and training resource aimed at optimising the performance of specialist water supply systems, material development and jointing. This know-how is shared with other group companies and also is input for the design software, enabling consulting engineers and contractors to easily draw and calculate water supply systems.
Our environmental statement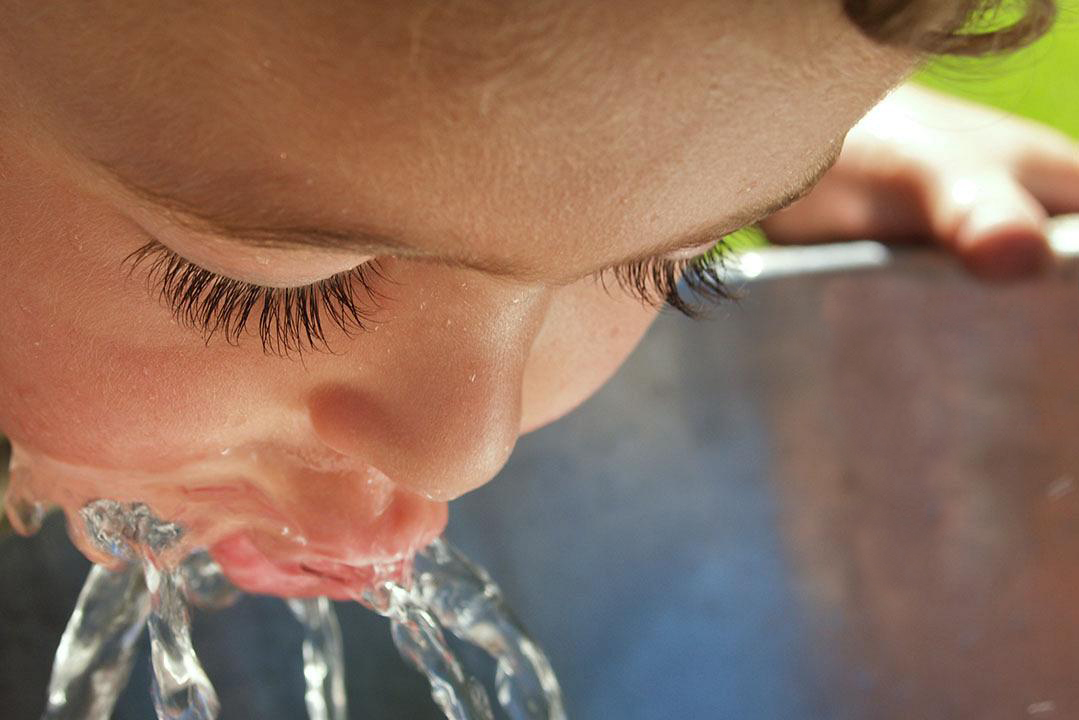 Quality management
The Quality Management System of Wefatherm GmbH has been certified according ISO 9001 for the production of water supply systems.
Internal monitoring
The Wefatherm system quality assurance starts at the gate of the factory with the receipt of raw materials. Only raw material of approved quality is processed. Processing itself is checked regularly. The modern and computer-controlled production machines and systems are checked and set by qualified and experienced personnel to ensure that they always function optimally. This gives a continuous process monitoring system, the results of which are documented.
Production monitoring
The settings of machines and the dimensional correctness of test pieces are checked carefully before production is commenced and adjustments are made if necessary. The dimensional correctness of the items produced, the setting data of the extrusion and injection moulding machines and the surfaces of the products produced are checked continuously and compared with the production specifications.
Final checks
The final products are subjected to further tests. The results of these are laid down and documented in test memoranda. Only products which have been checked and released are transferred to the warehouse. When the checks laid down in the test memoranda have been carried out and documented, the final products are released for stockholding and dispatch. Precise instructions and regular checks ensure the proper storage of the products. Packing and dispatch are regulated internally in a precise manner.